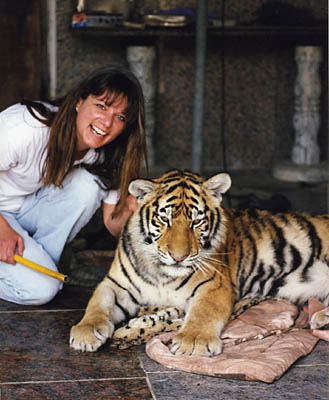 Denise Meyers has taken the gourd art medium to a higher level through her rapidly developing talent for painting and pyrography, as well as her uniquely compelling sense of design.

Concentrating on vivid wildlife imagery, but also adapting Native American icons, Denise prides herself on creating a sense of animation in her painting and the illusion of depth in her carving. She works hard and long to assure that each of her pieces expresses both the beauty and the power of individual subjects. Significantly, she also imbues each of her creations with a certain vulnerability, a sense of the precarious balance between life and death for both animals and cultures that are ill equipped to face the challenges posed by an exploding human population.

While primarily interested in creating art that speaks through beauty, Denise is acutely aware of how fragile all life can be. Whether depicting an endangered species or an elegantly stylized Mimbres design, Denise brings to her work the sense that everything is connected, from the gourds themselves to the images they portray. It's her greatest hope that her work inspires people to take just a bit more care with the world to better retain the diversity that makes it such a constant source of wonder.

Creating art from gourds requires mastery of quite a few media; not to mention requiring quite a few gourds. Denise makes annual pilgrimages to gourd farms in Southern California to choose the gourds that will best serve as her 'canvas'. "One of the things I like about working with gourds is that since each gourd has its own personality, I have to stay flexible enough to see how that gourd can best become one of my pieces," says Denise. When the art process begins, Denise does pencil sketches on the gourd. She brings her design into sharper focus with a bevy of burning and carving tools. For color and texture Denise relies on a broad palette. She increasingly relies primarily on acrylics but adds texture and variety with bead-work and precious stone inlay.

Denise studied Art at Oregon State University before shifting gears for what she considered the more stable world of Broadcast Communications. Ten years of toiling as a screenwriter and story analyst for a film community that considers The Brady Bunch Movie high art, found her seeking solace in Native American studies. It was during this time that Denise took a three hour class in rattle making. She wrapped her hand around a gourd and came away with not only an exquisitely designed rattle but with the innate sense that she had found out what she was supposed to be doing with her life.

Denise still has a hard time meeting the increasing demand for her work. That's not surprising given that each one- of-a-kind piece can take up to 500 hours or more to complete. Her work is included in the collections of Secretary of State, Colin Powell; acclaimed primatologist, Jane Goodall; Sigfried and Roy; Whoopi Goldberg; professional golfer, Hale Irwin; the President and CEO of American Express; Harv Golub; and the President of Fine Line Cinema, Mark Ordesky. She was recently commissioned to create work based on the characters from the Lord of the Rings trilogy, and is the only gourd artist ever to sell a single piece of artwork for $20,000, an accomplishment which landed her in the pages of The Wall Street Journal. Her work is represented by eight major galleries, and articles on her work have appeared in Wildlife Art Magazine, Southwest Art Magazine, Sculpture Forum, Cowboys & Indians, Mountain Living, Art of the West, The Arizona Republic, and the San Diego Union Tribune. Denise has also created and produced two art events to promote the works of non traditional and contemporary Southwest and Western artists; OUTLAW ARTISTS at the Art and Cultural Center in Fallbrook, CA, and REINVENTING THE WEST: Western Art for the New Millennium in Park City, Utah.

Talent, hard work and artistic vision combine to make Denise Meyers one of today's truly original artists.